About Scar Revision
Most scars do not produce poor cosmetic or functional results, however if a delicate balance is not achieved during the healing process a scar may display abnormalities resulting in more noticeable scars (called keloid or hypertrophic scars) that can be itchy and painful as well as unsightly.
Many factors influencing the quality of a scar include; the nature of the injury or surgery causing the scar, the location of the scar, the person's innate wound healing properties, racial background, disease status, smoking, the technique of wound repair and any complications during the wound healing phase.
Scar appearance can be improved with both nonsurgical treatments and surgery.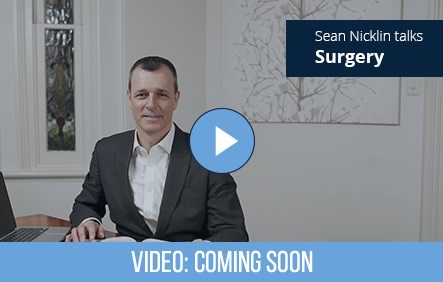 Non surgical treatment
In some cases cortisone injections can improve the scar appearance by reducing scar thickness, redness and/or itching. Otherwise surgery will be required.
Surgery
There are several techniques for scar revision surgery depending on the type and size of the scar.
Options include:
Completely removing the scar and then mending the wound again
Taking skin from other areas to cover up the areas of the scar (also known as skin "flaps" or "grafts")
Making the scar less noticeable by changing the direction of the scar
The technique selected is highly dependant on the site and the specific type of scar problem.
Meticulous technique, both in removal of the existing scar and also the repair (suturing) of the wounds is paramount.
A common technique is z-plasty, where the orientation of the scar is changed to make it less visible.
The post operative care of the wound and removal of sutures is also very important.
FAQs
How can I help minimise my scar from surgery?
A good scar management routine usually involves a combination of applying silicone gel, massaging with bio oil, using tape on the wound and keeping the area out of the sun for several months' post surgery.
The exact routine prescribed will depend on the procedure performed, the area of the body and your age and skin type.
Diligent adherence to the routine is your best chance to minimise scarring.
Why do you recommend silicone for scar minimisation?
We recommend a silicone based scar gel as there is strong scientific evidence that silicone improves scar outcomes.
What can I do to help reduce pain whilst my scar is healing?
Massaging the scar daily can help reduce sensitivity and pain – scars can be uncomfortable and painful for the first month after surgery as they heal.
Will the sun make scars worse?
The sun does not technically make the scar worse, however your scar will be more susceptible to sun damage than undamaged skin. Hence it is important to wear sun protection daily on the scar.
How long does the scar healing process take?
The scar healing process will generally take between 9-12 months after which point it will become a mature, pale scar if it has healed well.
What can be done if I develop a keloid or hypertrophic scar?
A cortisone injection can be useful in treating hypertrophic and keloid scars as it can help to dissolve excess collagen and create a flattened appearance.
When will I know if I need scar revision surgery?
If you develop a complication such as stretching, keloid or hypertrophic scarring, this will normally be evident by the 6 month mark, which is a good time to consider scar revision surgery.
Will I have no scar after scar revision surgery?
No scar can be completely eradicated, however every effort is taken to significantly improve its appearance.
How long is my recovery post surgery?
If Scar revision surgery is required, your sutures are usually removed 5-14 days post surgery. At this appointment our practice nurse will advise you on when and how to start your scar management protocol at home.
Medical terms
Typical Scar:  A typical scar that is healing well may develop as quite red for 3-6 months before settling as a light coloured, flat scar by about 9-12 months once healing is complete
Keloid Scar:  Develops due to an overgrowth of tissue – usually red and raised and extend onto uninjured skin that surrounds the original site of operation or injury. If a keloid scar is removed it will often recur
Hypertrophic Scar:  Usually raised, red and painless
Contracture Scars:  Can occur if your skin has been burnt. These scars tighten skin, which can impair your ability to move and may also go deeper, affecting muscles and nerves
Fees
Total fees for scar revision surgery are dependent on whether the procedure is cosmetic or carried out as a necessary component with a related medical procedure.
Following your consultation, a tailored quote for your planned procedure will be provided to you.
For more information on fees and rebates please visit the fee section on the FAQ page.